Download link ->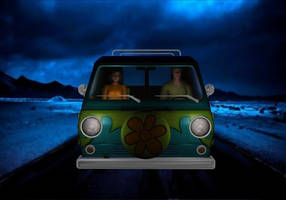 This is a very short visual novel based on a cartoon series I watched a long time ago. It can be played on Windows, MAC, and Linux systems using any web browser that supports HTML 5 format (converted using techniques described by kexter. Download the zip file, uncompress it using your favorite file cpmpressor program, and open the index.html file in the web browser of your choice.
Story: Vel and Shag are driving back to their hometown when the check engine on the van comes on. As it is late and no auto repir shop would be open they decide to get separate rooms at a creepy looking hotel.
Playing time is about 15 minutes.
Terms of use: You may not upload this to any web other site without my permission.