[logo coming soon] Lovely Days With You, A VN by LoliNekocchi.
Lovely Days with You Demo---->
http://www.box.net/shared/st2y9gelth
Credits:
http://khmix.sakura.ne.jp/download.shtml
for the chara maker and
http://narup.if.land.to/sr_data_u.cgi?a ... g&mynum=69
for chara maker additional sets.
http://skimlines.deviantart.com/
for the character set 'Wendy' that I used here.
http://masato.ciao.jp/haikei/furemu.html
and
http://shass.sakura.ne.jp
for the backgrounds
http://www.tam-music.com/
for BGMs
Creators of many anime-manga parodied here, I hope they wouldn't kill me.
Summary: You're a new guy in a so-called-universal-new town. You encounter various girls with various backgrounds.....
Shortly, it's a VN with 5 routes of 5 girls. Each route contains totally different story; some are full of parodies and LOLs, some can be full of Key-like tragedy.
Characters:
The Protagonist: You name him. Is an anime fan but not too hardcore. Personality can depends on which route taken....Age 16.
(The default name for him is...My old OC. It's weird, I know.)
Na-chan
Her full name is unknown to the protagonist (The other knows her real name but won't tell it). But he calls her Na-chan. Is a lolicon PLUS shotacon. Likes both 2D and 3D lolis and shotas. She is an otaku too, and have fondness for APH*t*lia and L**cky S**r *you must know what animes are them* probably for the shota bishies and loli cuties. Age 16.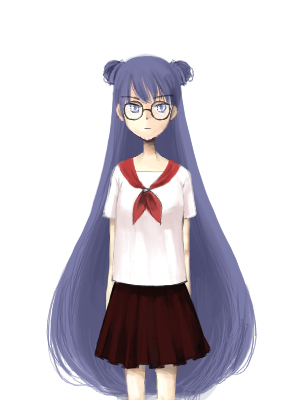 Mirien (aka Miri)
Miri is very caring about Mia, her sister. She is pretty harsh and not so popular in her school. A bit of tsundere and kuudere, is strong and smart but not good at science. Age 16.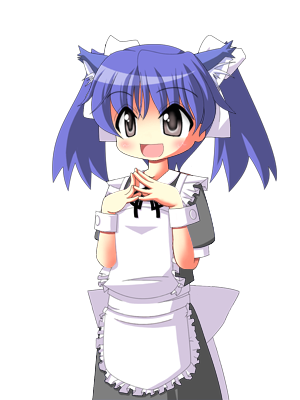 Mialina (aka Mia)
Mia is Miri's little sister. Loves cute things (she wears nekomimi and meido outfit because she said it was cute) and was doing a part-time job in the protagonist's school canteen. Why she doesn't go to school will be later revealed....Age 13.
Nekomi Chisa (Chisa)
Chisa is Saza's neighbor. Likes the protagonist since first sight. Cute and lovely but no one knows there's blood in her mind until....*censored for spoilers* Age 13.
(note: she is one of the chara in my light novel that I delayed! and she also my first RP chara on ASRPF)
*I'm using 'Wendy' by Mikan for this char*
Saza *weird name, yeah*
A girl who is the protagonist's childhood friend. Chisa's neighbor. Is a nice person but dislike cartoons, animes, mangas and comics for some reason. Age 16.
---------------------------------------------
Yay I made a game~ But it's not that nice, ahaha. So many grammatical error, please do not mind; I'm not from an English-speaking country. No hard critique, I'm still a newbie at making Visual Novels.